If you're wondering what kind of evil, sociopaths would hate on people who are getting married, the answer is: everyone. Yes, weddings are beautiful and fun (and I honestly enjoy going to weddings), but they can also be really stressful to attend. And sometimes, bride and groom just don't know how annoying they can be. So here are all the asshole things some love birds (including me, myself, and I) do to their closest friends and family while saying I do.
(disclaimer: I did almost 100% of these. And for that, I am so sorry.)
Acting like getting married is the most important event of the century
I'm sorry, but you're the 464523673th person to get married this year. Nobody's gonna cancel their whole month of events for you, and nobody wants to hear a grown up whine. Also, almost everyone eventually gets marred. No need to act like you just won the Nobel Prize.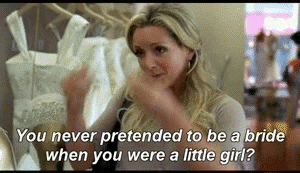 Booking a venue that's impossible to get to
Literally the first thing I do when I receive a wedding invitation is Google mapping how long it will take to get there. By 11PM on the actual wedding day, I am tired, drunk, and slightly disabled from wearing heels all night, so getting back is a complete nightmare. By midnight, I'm like:
Ceremony that's an hour long
Listen, I cry at almost every single wedding because I love wedding vows and I am also emotionally unstable after 4 PM. However, if the ceremony has a 3-part celebratory songs, a speech in a language I don't understand, and a dance in traditional garments, I will fall asleep. Don't be a selfish asshole. Make it a reasonable length.
Starving your guests because you're on a budget
All of my heart is there to congratulate you on your love and devotion to each other, but all of my stomach is there for shrimp cocktails and cake. Feed your guests. See all the guests crowding next to the kitchen door? That's because there's not enough food during the cocktail hour.
Not sure how much food is enough? Here's one way to tell. All the Korean ajummas at the wedding should be stuffing their purses with bread and cookies wrapped in napkins, and there should still be enough leftover to feed the homeless people outside.
Not dancing at your own wedding
If YOU don't dance, WE can't dance. Because Bride & groom set the tone of the dance floor. If YOU two dance like fun, crazy people, everyone — even the church ajummas who haven't danced since 1975 — will dance.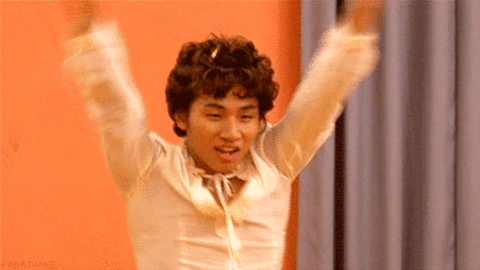 You two are the coolest people of the night. Everything you do will be amazing, so don't be shy and dance the night away.
---
As I mentioned above, I was definitely an asshole before/during/after my wedding. I couldn't stop talking about my wedding while I was planning it, my venue was in the middle of nowhere, the date was the day after New Year's Eve, and the dinner was served at around 10 PM for some reason. So if you came to my wedding and/or listened to me rant 3 hours a day, I am so sorry.
And thank you for forgiving me and letting me have my day. I will never forget (and I will be watching to see how awesome your wedding will be).
Just kidding! Except, I'm totally serious.